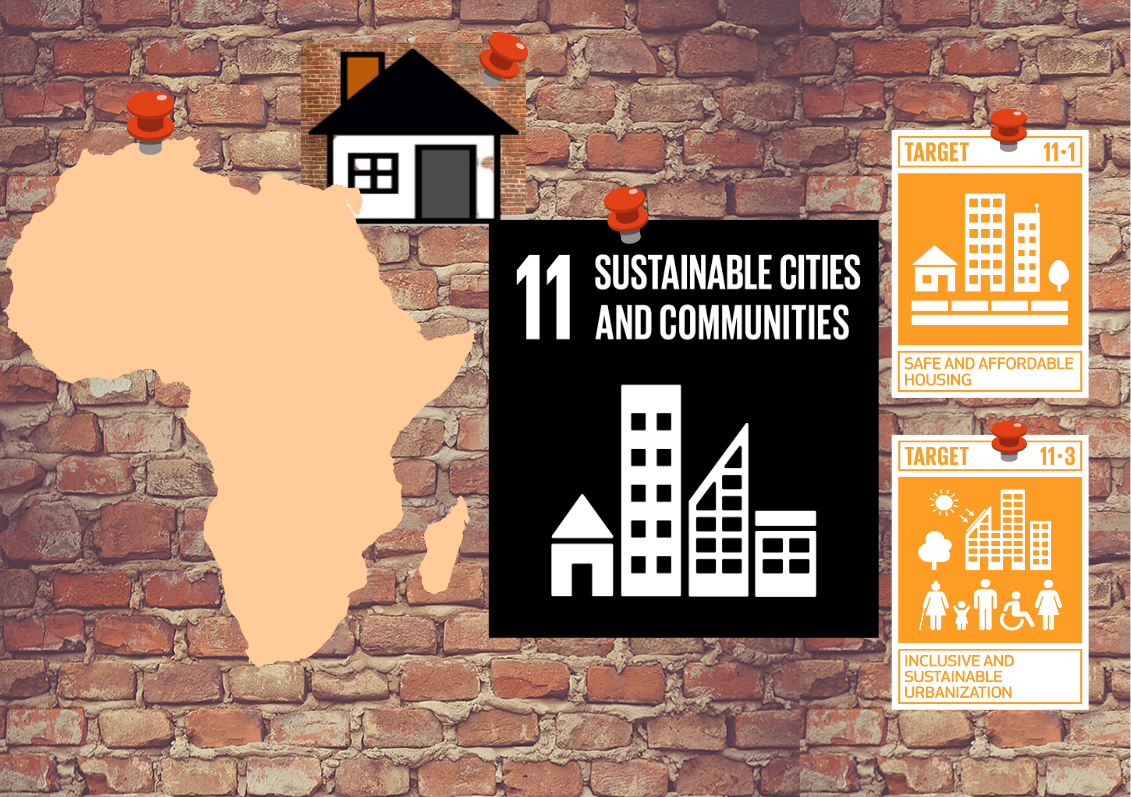 Exclusion of Migrant Women in Africa | Access to Housing
Continuing the Series on Migrant Women
In continuing the series on the exclusion of migrant women, we are looking at the limited access to housing that migrant women have around Africa and around the world.
Previously in this SIHMA series on the exclusion of migrant women, we have discussed the lack of access to the labour market and the labour-related policy making [1]. The second blog was more devoted to mental and physical health and access to health care [2]. The latest article talked about the limited access to education to not only migrant women but also girls [3].
Access to Housing
Women already get paid less than men, now imagine how little migrant women are paid and how hard it is to manage to find and afford a home.
According to the Migration Policy Institute (MPI) 63.2 percent of female migrants (9.4 million women and girls) in Europe are not from elsewhere in Europe and most of these are from Africa, Latin America, and Asia [4] . Female migrants efforts towards integration and their desire to be seen as equal members of society with the value of their work recognised go hand in hand [4]. Migrant women have high integration potential [4] and yet integration and access to adequate housing are big issues for migrant women. While historically integration of immigrants into the labour market was relatively easy, new female migrants encounter significant challenges to economic and social integration [4] and corresponding access to housing.
In South Africa migrants are regularly recognised as a marginalised and vulnerable group [5] and it is generally agreed that the most excluded constituency in South Africa are women-headed households [6]. There is a close correlation between household poverty level and where the household is able to settle as this relates to whether members of the household are able to access the job market [6]. Many migrant women live in small rooms, often up in the hills or in remote locations because they are usually excluded by employer's xenophobia, or due to their legal status or socio-economic status and low-income background which effects their access to housing. Female migrants, refugees, and asylum seekers are often targeted and experience xenophobic violence [7] and hence not only is housing for female migrants often inadequate in terms of structure and amenities but the home is also often not safe and does not protect against xenophobic attacks. When migrants, refugees, and asylum seekers leave their home, they leave for a variety of reasons including personal problems, political unrest, persecution, natural disasters, violence, and war. Female migrants in Africa often work in the agriculture sector to earn income and access to a place to call home, and yet among workers in this sector both women and migrants (internal and international) are among the most vulnerable and marginalised [8]. A study in South Africa found that women, seasonal workers and migrants from Mozambique were all paid less than permanent workers [8].
Migrants face many challenges to arrive and establish their life in a new home and with or without children a stable and safe roof over their head is necessary. A 2011 study on 'Low-income African migrant women and social exclusion in South Africa' [9] found that migrant women experience both generally shared and female specific challenges entering the economic and social spheres [9]. The study also found that exclusion is worsened by labelling, prejudice and administrative decisions but nevertheless found that 'migrant women are innovative and resourceful and show a good understanding of the context in which they live.' [9]
While the lack of access to adequate housing often relates to not having work, there is also the lack of access to technology to find work, especially important in the context of the pandemic and the escalation of remote work and limitations on mobility. This is very hard for many migrant women with little to no income. As Migrant women arrive in Africa, they are leaving their homeland to start a new, and many come alone, and others come with children. It is extremely hard to look for a home, look for a job, and find a way to provide for the child/children.
Making sure that migrants, refugees and asylum seekers have access to proper housing relates to the Sustainable Development Goals, Goal 11 Sustainable Cities and Communities including Target 11.1: "ensure access for all to adequate, safe and affordable housing and basic services and upgrade slums", and target 11.3: "enhance inclusive and sustainable urbanization and capacity for participatory, integrated and sustainable human settlement planning and management in all countries" [10]. It is argued that South Africa's cities will only succeed in building sustainable communities and infrastructure if they actively include foreign migrants in the planning and provision of public and private housing [11]. In South Africa international migrants are generally not able to access housing subsidies and are excluded from National Housing Codes [11], and access to housing by non-South African Citizens has virtually been ignored, particularly for poor, undocumented migrants from other parts of Africa seeking work and accommodation [12]. South Africa has a small number of refugee service providers and shelters offering, 'migrants in desperate need of accommodation,' temporary support [11]. In South Africa and across the African Continent Churches and Faith Based Organisations are also significant institutions assisting migrants gain access to temporary and longer-term housing [11]. For instance, the Jesuit Refugee Service (JRS) in Kenya provides housing protection for survivors of sexual and Gender Based Violence and also for child protection [13].
Additionally Sustainable Development Goal 5 -Gender Equality supports female migrants access to housing and property rights particularly Target 5.a: "Undertake reforms to give women equal rights to economic resources, as well as access to ownership and control over land and other forms of property, financial services, inheritance and natural resources, in accordance with national laws".[14] It is essential the female migrants' rights to housing are taken in to consideration in policy and legislative reform in light of this goal.
Housing is a key component of safety and a basic foundation of a healthy state of mind and a study on Zimbabwean female migrants found that migration and poverty (including homelessness or inadequate housing) has a substantial impact on mental health [15]. Many female migrants in Africa struggle to find employment and access to adequate housing. The lack of housing for migrants is particularly acute in African Cities and "major housing shortfalls in many African cities threatens urban health and safety."[16]. There are approximately 19.1 million female international migrants in Africa (47.1% of Africa's international migrant stock) [17] and each should and must have access to adequate housing and access to housing rights.
As we continue to learn about the exclusion of migrant women, we see how all of the previous topics, this one and the ones to come are all connected in one way or another.
INTEREST IN WRITING SOMETHING?
If you are interested in contributing the SIHMA Blog on the Move please contact us at: https://www.sihma.org.za/contact or if you are interested writing an article to be reviewed and published in the African Human Mobility Review, please follow this link on making a submission: https://www.sihma.org.za/submit-an-article
James Chapman and Yolanda Gonzalez
SIHMA SIHMA
Project Manager Research and Communication Intern
References:
---
Categories:
---
Tags: