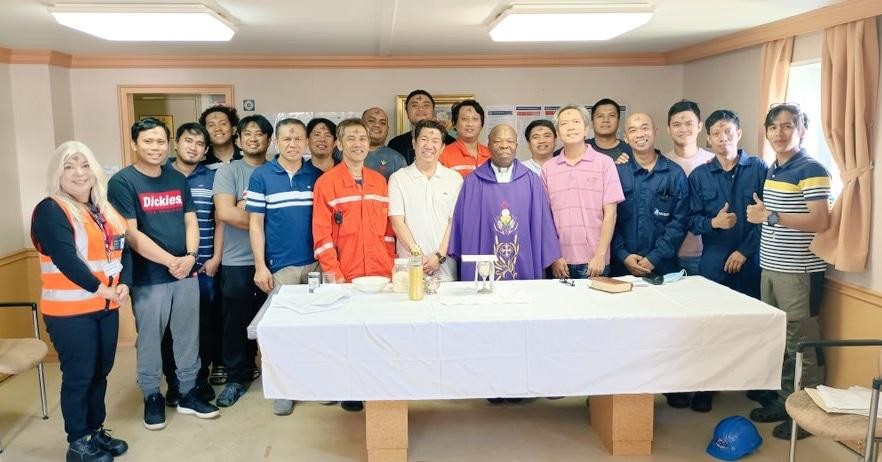 Lent At Sea
Lent is the liturgical season of almsgiving, prayer, and fasting in preparation for Easter. As is customary during this time, the forehead is marked with the cross sign to mark the beginning of the season. This is a sign of humility that man comes from ashes and shall return to ashes as well as a sign of repentance for sins. Catholic faithful around the world goes to church on Ash Wednesday to receive ashes and begin Lent's 40 days of discipline. Often a problem arises when the faithful can't go to church because of work conditions, and as a result, they cannot attend services at the church. This is true for seafarers and fishers on board ships. When this happens, the Stella Maris ministry steps in to help. Port chaplains visit ships to bring the ashes to Catholic seafarers and fishers whose domiciles aren't in South African Catholic Churches but in their own countries.
Fr Rico Talisic, port chaplain of Stella Maris Cape Town, administered ashes to 67 seafarers and fishers on board 3 ships and 3 at Holy Cross Parish. Also, Fr Jabulani Ndaba, port chaplain of Stella Maris Richards Bay visited seafarers on board bringing ashes to 16 seafarers. All of them are Filipino seafarers and fishers. It is the commitment of Stella Maris South Africa to provide spiritual assistance and faith nourishment to Catholic seafarers and fishers around the world. Along with the administration of ashes, port chaplains encourage them to pray always, read the scriptures, and abstain from meat on Fridays throughout Lent.
"What a strange way of celebrating Lent on ships!" Some people may think this is not true. However, it is the reality of seafarers and fishers who, despite their unusual circumstances, keep their faith and tradition alive. While it may seem strange to some, others have become accustomed to such circumstances over the years.
Stella Maris South Africa also brings sacraments, crew blessings, and faith materials. In 2022, 339 seafarers and fishers attended Holy Mass on board or at Holy Cross Parish and 264 were blessed. In addition, 1221 rosaries, 609 scapulars, 536 prayer cards, 2 Bibles, and 2 crucifixes were distributed to them. Throughout the maritime world, Stella Maris is always regarded as a very significant spiritual aid for seafarers and fishers who require spiritual assistance. This is especially during Lent. Port chaplains and volunteers are glad to serve them.
By
Fr Rico Talisic (Stella Maris National Director and Cape Town Port Chaplain).
---
Categories:
---
Tags: