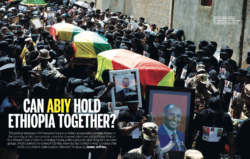 Like a thriller: Inside the Ethiopian Boiling Pot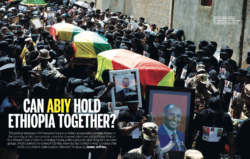 Like in the best tradition of mystery writing, what happened last June in Ethiopia remains wrapped in a steam of fragmentary news and contradictory information. In less than 48 hours a round of attacks and assassinations in the Ahmara region have shocked the country and revived ethnic hostilities while the governmental press reported the killing of General Asamnew Tsige as the epilogue of a failed coup.
But what happened really? And was there really a coup? James Jeffries covers those frantic days, analyzing the implications the recent events may have on the difficult path to national unity Prime Minister Abiy is trying to pave.
Back to the facts as we know them, the key to understand the wave of violence that has shaken the country seems to be ethnic nationalism. On June 22 Ahmara President Ambachew Mekonnen and his advisor Ezez Waisie were killed by a military commando led by General Asamnew. Together with other prominent men of the region, they were discussing his removal from regional security forces, due to his hardcore nationalist positions, considered dangerous and counterproductive. At the same time, a military convoy under Asamnew's command tried to take control of the police headquarters in the region's capital, while in Addis Ababa the Ethiopian army chief of staff was murdered by one of his bodyguards. A few hours later, the shooting of Asamnew by security forces seemed to put an end to what seemed and was referred to as a coup.
The death of the general opened the floor to many unanswered questions: did he really try to make a coup? Was he also behind the assassination of Seare Mekonnen, the chief of Ethiopian Army? And what was the real aim of the coup? Did Asamnew aim at taking control of the region? Or did he have a more ambitious plan, that is overthrowing the actual federal government?
If, on one hand, the wave of violence in Ahmara apparently concerns a regional territory and has been described by the governmental media as a circumscribed episode, on the other hand it must be remembered that the area is crucially important from a historical and political point of view as it is the cradle of the second largest ethnic group in the country and that was ruling Ethiopia until 1974. The death of Asamnew risks to turn against the central government: detained and tortured by the previous government and released by Prime Minister Abiy in his attempt to create a new and balanced federal state, the general could dangerously turn into a martyr for the Amhara people. At the same time, the unrest following the supposed coup has revived other ethnic nationalisms both in major and minor groups and is putting to test Abiy's dream of a modern, reformed and (possibly) united country. Ethiopia is actually a boiling pot, a thriller novel the end of which is still unwritten.


---
Categories:
---
Tags: