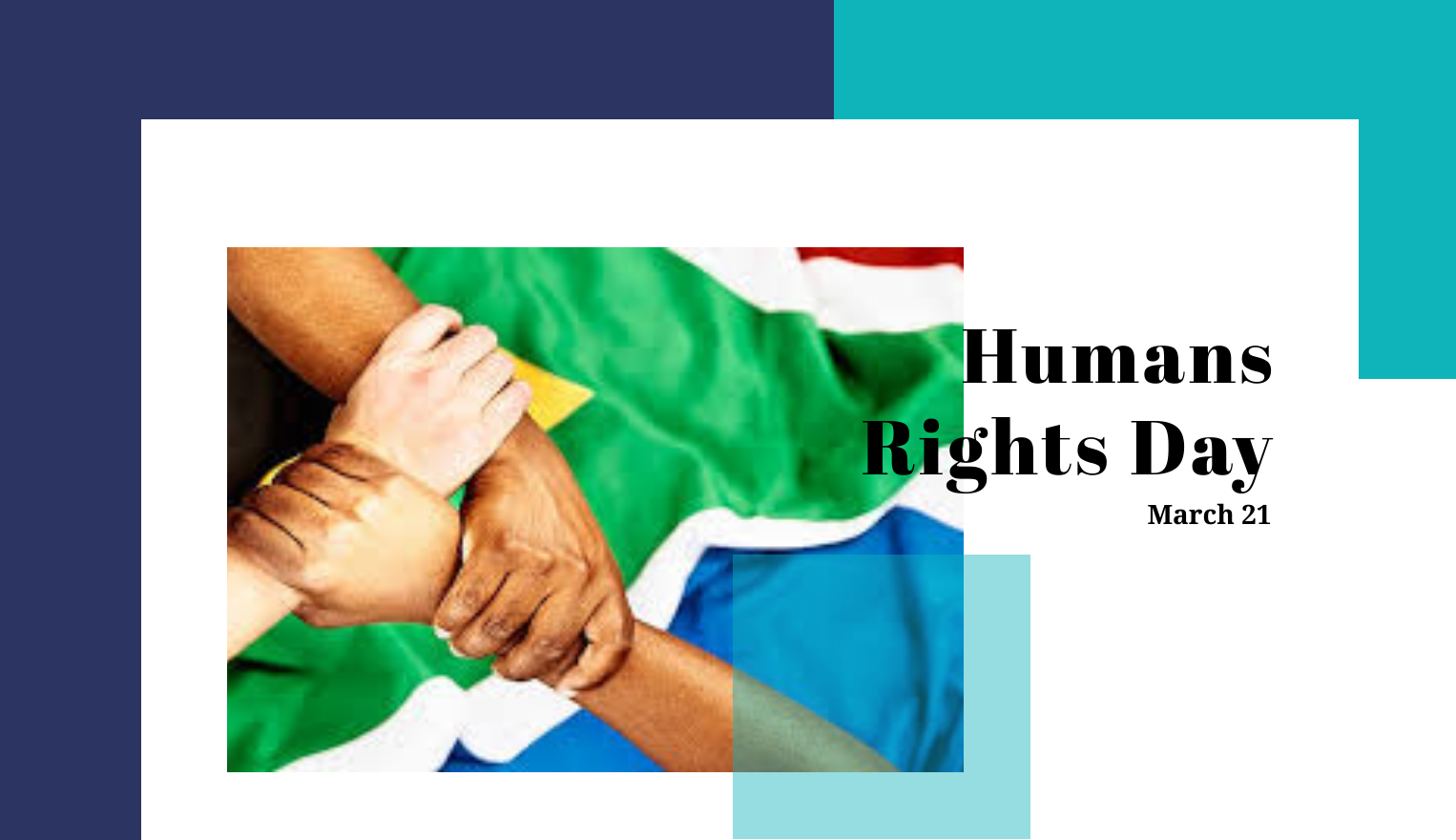 People on the Move and Human Rights Day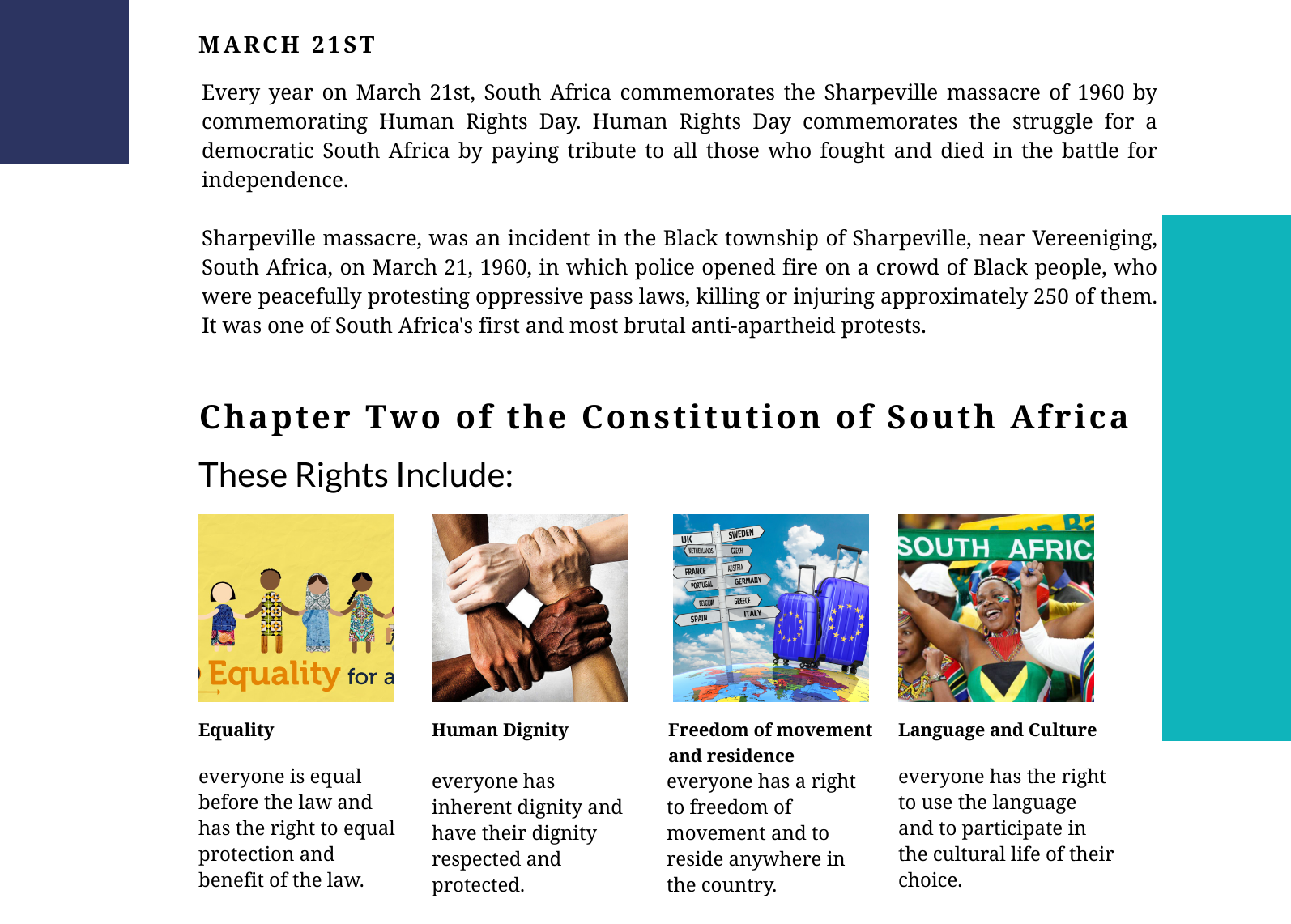 Human Rights Day is a national day that is observed annually on 21 March to remind South Africans about the sacrifices that accompanied the struggle for the attainment of democracy in South Africa. Every year on March 21st, South Africa remembers the Sharpeville massacre of 1960 on Human Rights Day. Human Rights Day commemorates the struggle for a democratic South Africa by paying tribute to all those who fought and died in the battle for independence [1].
Human Rights, which were formerly denied to the majority of the people of South Africa under Apartheid, are best protected by the South African Constitution. Human Rights Day serves as a reminder of the dedication to the Bill of Rights, which is enshrined in the Constitution. The Bill of Rights, found in Chapter 2 of the South African Constitution, is a human rights charter that guarantees all people in South Africa social, political, and socio-economic rights.
These rights include: Equality – everyone is equal before the law and has the right to equal protection and benefit of the law [2]. Human dignity – everyone has inherent dignity and has the right to have their dignity respected and protected [2]. Freedom of movement and residence – everyone has a right to freedom of movement and to reside anywhere in the country [2]. Language and culture – everyone have the right to use their own language and to participate in the cultural life of their choice [2]. Life - everyone has the right to life, which prohibits the death penalty [2].
On the 10th of December 1948, the United Nations General Assembly adopted and proclaimed the Universal Declaration of Human Rights. Accordingly 10 December is now known as Human Rights Day around the world. The Universal Declaration of Human Rights (UDHR) is a significant UN achievement as well as the first global declaration of human rights. Some of the rights included in this declaration which relate to people on the move are under Article 13 - Everyone has the right to freedom of movement and residence within the borders of each state, Article 14 - Everyone has the right to seek and to enjoy in other countries asylum from persecution and Article 15 - Everyone has the right to a nationality [3] .
Other African countries celebrate and recognise a Human Rights Day, like Namibia that celebrates Human Rights Day on the 10th of December which the country combines with commemorating and celebrating Women's Day on the same date. This is significant as in Namibia, the 10th of December commemorates the forcible eviction of residents from Windhoek's Old Location in 1959 to what is now Katutura [4]. A group of women from the former location protesting against the oppression of apartheid and intention to relocate Old Location residents to Katutura, marched to the home of South West Africa administrators and 5 days later on 10 December 1959, police clashed with residents wounding 44 and taking 11 lives. Namibia holds an annual ceremony in their honour to remember those who gave their lives in the pursuit of human rights [4]
As we observe Human Rights Day from the perspective of people on the move it is important to remember, protect and promote the rights of migrants globally, in Africa, regionally and nationally, including the rights of refugees, victims of trafficking, internally displaced persons, stateless people, seafarers and various other categories of vulnerable migrants. The 'Geneva Declaration on Human Rights at Sea' ("the Declaration"), was conceived in March 2019 with the aim of establishing a new soft-law instrument bringing together and describing all relevant international law that applies in the maritime space in defence of fundamental human rights at sea, reflects established law and looks to explore its practical application in the maritime world [5]. The protection of human rights at sea rest on four fundamental principles: Human rights extend to the same degree and scope at sea as they do on land, Human rights are granted to all individuals at sea, regardless of their status, there are no maritime-specific laws that qualify for human rights exemptions and at sea, both treaty and customary international law-based human rights must be upheld [5]. In addition to the Declaration there is additionally a binding Convention often referred to as the Seafarers' Bill of Rights in the form of the International Labour Organization's Maritime Labour Convention (MLC) of 2006 which provides the minimum rights which must be afforded to seafarers [6]. African Countries which have ratified the convention include Algeria, Cabo Verde, The Republic of Congo, Ethiopia, Eswatini, Gabon, Ghana, The Gambia, Kenya, Liberia, Mauritius, Morocco, Nigeria, South Africa, and Tanzania.
Coming back to Human Rights Day in South Africa, in just the year 2020, international discourse has centred on a number of human rights violations, including children being denied the right to dignified sanitation in schools, young girls being denied the right to life on the Cape Flats, and fellow Africans being denied their rights as refugees [7].
In South Africa despite substantial improvements in the size of state service provision since 1994, access to basic goods and services such as nutritious food and safe drinking water remains unequal at best and inadequate at worst [7]. High-quality healthcare and education are also largely reserved for the wealthy [7].
Despite the government's launch of the National Action Plan to Combat Racism, Racial Discrimination, Xenophobia, and Related Intolerance (NAP) in 2019, incidents of xenophobic violence and discrimination against non-nationals continued in South Africa in 2020 [8]. These incidents were often met with indifference or ineffective responses from law enforcement officials [8]. Refugees and asylum seekers encountered various obstacles in their search for protection including recently passed law limiting access to asylum, as well as a massive government backlog in processing claims and appeals [8]. The government's COVID-19 aid programs, including food parcels during national lockdown, overlooked people with disabilities, refugees and asylum seekers and many lesbian, gay, bisexual, and transgender (LGBT) people [8]. Although the 2019 National Action Plan to combat xenophobia, racism, and discrimination constitutes an important step towards recognizing and addressing these abuses, it fails to ensure accountability for xenophobic crimes [8]. South Africa had 757,144 confirmed Covid-19 cases as of mid-November, with 20,556 deaths, one of the highest figures in Africa [8]. Refugees and asylum seekers were ignored by the government's COVID-19 assistance services, which included food packages [8]. In March 2020 the African Commission on Human and Peoples' Rights, via letter to the president, expressed concern about the vulnerability of refugees and asylum seekers under South Africa's Covid-19 regulations and urged the South African government to adequately address human rights issues responding to Covid-19, to include ensuring access to basic services for undocumented refugees and asylum seekers [8].
On Human Rights Day, we reflect on our rights and are called to protect these and the rights of all people from violation, irrespective of nationality, race, gender, religion or sexual orientation – human rights apply to everyone, equally [9]. It is essential that we remain vigilant and report abuse and cruelty, like human trafficking, forced labour, child labour, violence against women, children, and the aged and other vulnerable groups including xenophobic violence [9]. SIHMA supports and promotes the protection rights for all people on the move and particularly the rights of people on the move within and from Africa.
INTEREST IN WRITING SOMETHING FOR SIHMA?
If you are interested in contributing the SIHMA Blog on the Move please contact us at: https://www.sihma.org.za/contact or if you are interested writing an article to be reviewed and published in the African Human Mobility Review, please follow this link on making a submission: https://www.sihma.org.za/submit-an-article
James Chapman and Maita Deborah Jena
SIHMA SIHMA
Project Manager Research and Communication Intern
---
Categories:
---
Tags: