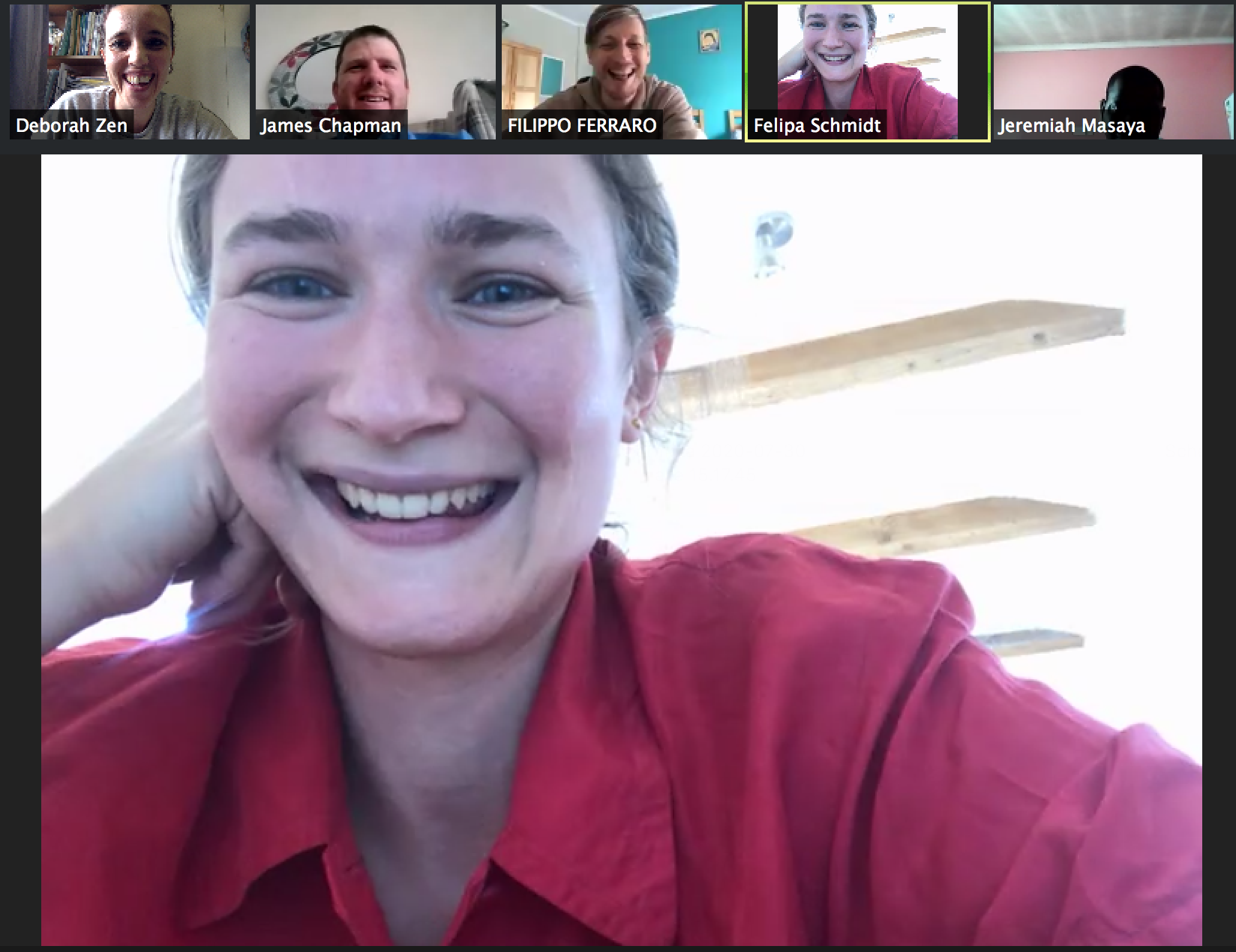 Remote internship experiences
In responding to this peculiar moment during the Covid-19 pandemic, SIHMA's team has been working remotely since the lockdown started in South Africa. SIHMA managed to face the quarantine time by starting virtual collaborations and giving the opportunity to students to be part of SIHMA though remote internships and volunteering experiences. In the last few months Felipa Schmidt joined the team, working from Germany from May for three months, Jeremiah Masaya started in August and is currently working remotely from South Africa and Nell Fredericks started in the same month from Boston, United States.
Felipa is from Germany and she was a research intern for SIHMA from May to August 2020. She originally intended to come to Cape Town from February to August 2020 to complete the internship, but as the COVID-19 pandemic hit and the international travel bans were put in place, the internship became remote. Felipa came to SIHMA, after completing her masters in War & Psychiatry and gaining an interest in migration and refugees health from previous volunteer experience at Doctors of the World. The reason that motivated her to intern at SIHMA was to gain a perspective on migration that is often omitted in modern news cycles, as it is often dominated by a Western or European view. Through the internship, she did research and communications, wrote blog posts on how COVID-19 is impacting migrants and refugees in Africa, the positive impacts of youth migrants in the world, and completed a research project on the mental health impacts of migration on young migrants and refugees.
Jeremiah is from Zimbabwe, but is currently in South Africa pursuing a Masters in Science in Conservation, Ecology and Entomology at Stellenbosch University. He also graduated with a Bachelor of Science Degree in Geography and Environmental Studies from Midlands State University and worked as a Geography relief teacher in different High Schools. Furthermore, Jeremiah worked as a junior environmental practitioner for several consultant companies in Zimbabwe. In addition to that, he worked as a Safety Officer for a couple of months and his experience has contributed the willingness to participate within the fraternities where human rights and people's well-being is respected. Jeremiah is very interested in issues around migration in Africa and beyond. He decided to apply for a volunteer position at SIHMA in order to diversify his expertise and broaden an understanding of the benefits and costs of migration in South Africa and across the entire globe. He will assist at SIHMA with Research and Communications and focus some of his research for SIHMA on migration and climate change, due to his background studies in Geography and Environmental Studies.
Nell is from Boston, Massachusetts and is a third-year student at the University of Southern California in Los Angeles, CA. She is acquiring a Bachelor of Arts in Philosophy, Politics, and Law at the University of Southern California in Los Angeles. She has previously work experience in the nonprofit sector, including a legal service center and a California statewide tenant coalition. Furthermore due to her Media and Communications experience she will help at SIHMA with Social media and website management and some Research projects focusing on migration issues that USA, South Africa and other African countries have in common. Nell is extremely passionate about refugee and migrant rights and hoping to pursue a career in the realm of public policy, governmental affairs, and human rights.
SIHMA is proud of these interns and hopes their contributions continue to improve our research projects and information sharing and dissemination about human mobility in Africa.
---
Categories:
---
Tags: