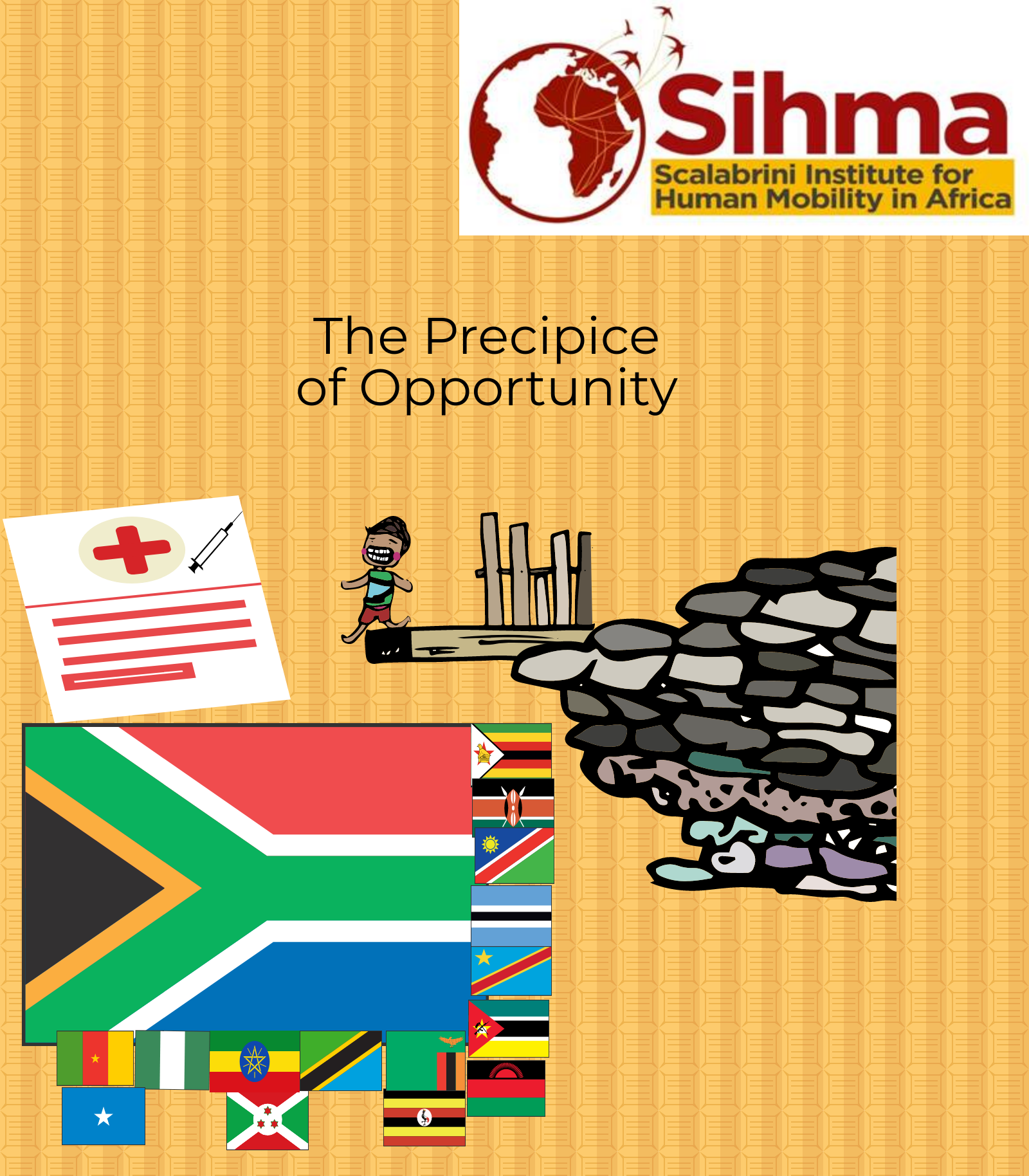 South Africa at the Precipice of Opportunity – Covid-19 Vaccinations
Covid-19 Vaccines are being distributed and administered all over the world. India, Egypt, and Guinea are all developing countries that have commenced vaccination with the latter two being African countries which are administering vaccines. Regrettably, Africa as a continent, lags behind with respect to vaccinations (1). Despite South Africa being one of the continents most developed and wealthiest countries the vaccination plan and roll out has been slow and received criticism from a number of sectors. However, the Country's President announced in January 2021 that to date 20 million doses of the vaccine have been secured and most is expected to be delivered in the first half of this year (1).
It is common knowledge that the Covid-19 virus does not discriminate on the basis on nationality, effecting people across the globe including international and internal migrants. South Africa has not had the best track record when it comes to the treatment of nor provision of services that include migrants, and xenophobia and xenophobic violence have been fairly commonplace. Xenophobic violence was particularly prevalent in 2008, 2015 and in 2019 (2). President Ramaphosa condemned the 2019 attacks on foreign nationals stating they are 'something totally unacceptable, something that we cannot allow to happen in South Africa' (2). However, South Africa's actions and how the populous and government choose to proceed going forward is yet to be seen. As the vaccination process commences in 2021 will South Africa adopted a united and inclusive approach and help shake off the mantel of Xenophobia and violence? Will South Africa embrace the need to include all those within the country irrespective of nationality or documentation? South Africa is at the Precipice of Opportunity and has a chance to hear the following in the not-too-distant future: 'my grandfather was vaccinated, your grandmother was vaccinated, his cousin with comorbidities was vaccinated and none were turned away due to their documentation or nationality. They are… we are… alive because of the united inclusive approach taken!' A united and inclusive South Africa is a healthy South Africa in which the fundamental tenants of South Africa's Constitutional Democracy and in particular the right to dignity and equality are protected for all those living within the country.
In terms of identification documentation one of the effects of the Covid 19 pandemic, and pursuant lockdown, was the closures of Refugee Reception Offices which process refugee and asylum seeker documentation. Thus people who fled persecution and managed to apply for asylum or obtained refugee status have not been able to extend their documentation and in many cases will be in possession of lapsed documentation. Additionally 10s of 1000s of asylum seekers who wished to apply for asylum at Refugee Reception Offices and were not able to access them prior to the lockdown have been undocumented since the lockdown to date and will not be able to obtain asylum seeker or refugee status documentation until Refugee Reception Offices are open. Asylum seekers with refugee claims by definition flee owning to a well-founded fear of persecution and/or war-torn situations and it in not safe to return to their country(3). Asylum seekers and refugees with comorbidities and elderly refugees and asylum seekers ought to have equal access to the vaccine as South Africans recognising their vulnerability. Vaccination on the basis of documentation will result in greater loss of lives for South Africans and for people on the move, it will further spread of the virus, and will compromise effective medical response to the pandemic in South Africa.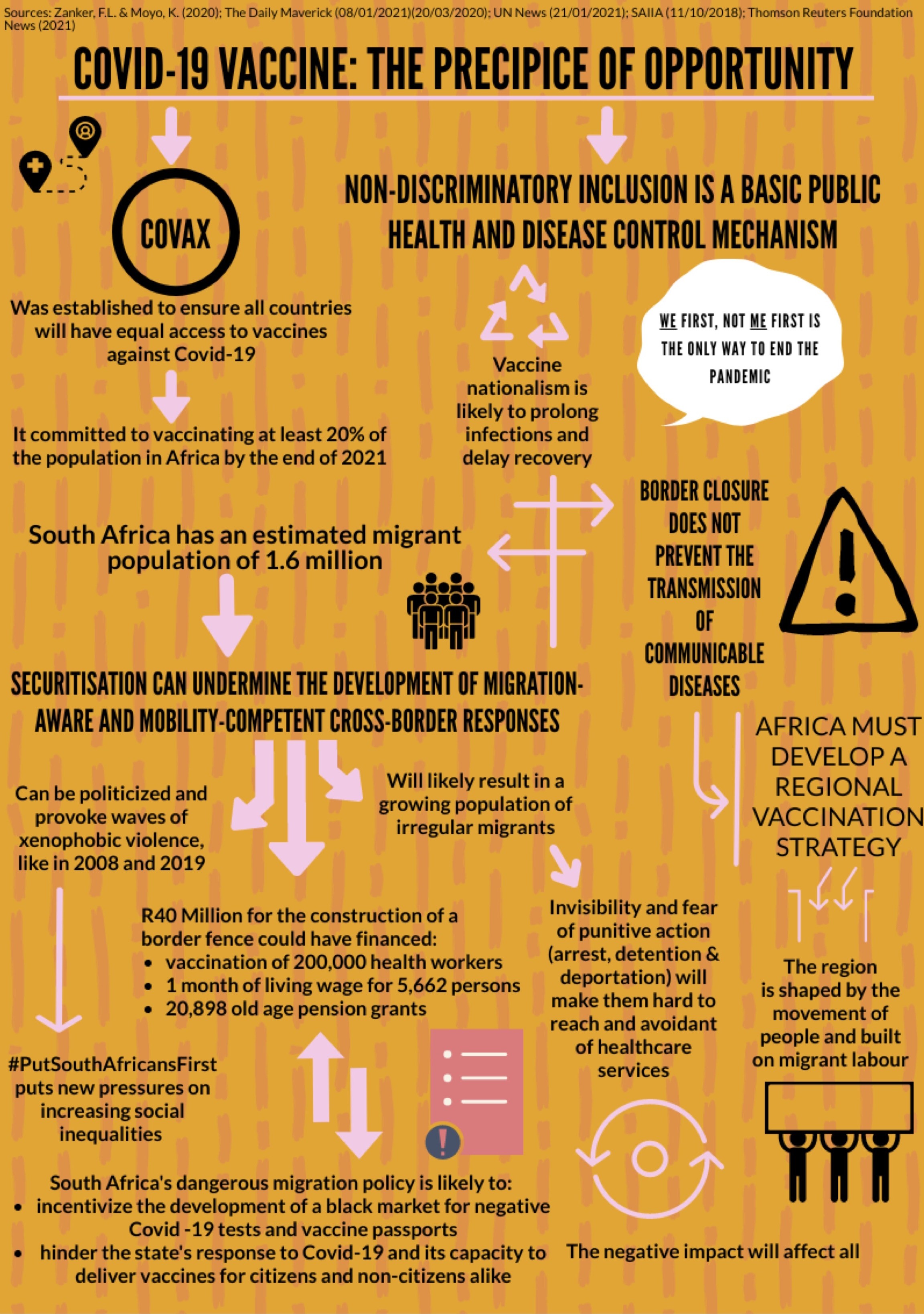 The dramatization of the numbers of migrants returning to South Africa hints to the potential evolution of the situation into a 'humanitarian crisis', and seeks to erroneously cement the idea of migrant bodies as a threat to the health of South African nationals(4). However, the construction of migration as a threat is profoundly problematic and serves as a distraction from the state's significant lack of preparedness in securing and rolling out a Covid-19 vaccine (4). In fact, on one hand the COVAX Facility was established to ensure all countries have equal access to any vaccines, against the Covid-19, and has secured 2 billion doses of vaccine that will be used to vaccinate people across the world including at least 20% of the population in Africa by the end of 2021 (5). On the other hand, however, Africa is in danger of being disproportionately left behind in the rollout of the Covid-19 vaccines, as other regions are driving up prices by establishing bilateral deals, and new issues in global distribution are starting to emerge. President Ramaphosa has strongly criticized wealth nations for overstocking and hording vaccinations (6).
Within such context, vaccine nationalism is likely to prolong infections and delay the recovery of South Africa, and of the region as a whole. The African continent and in particular in this context the Southern African region have been and are profoundly shaped by the movement of people, and South Africa's economy is especially dependent on migrant labour (7). Hence, it is crucial to develop migration-aware and mobility-competent cross-border health system responses, which are not hampered by increasing securitisation (4). Notwithstanding the cruciality of developing a regional vaccination strategy, South Africa has focused on the establishment of an uninformed and dangerous migration policy, which seeks to concentrate on tracking, detaining and deporting migrants (4). This has been evident since the beginning of the pandemic in March, when the South African government spent in excess of R40 million for the construction of a securitising fence along the border with Zimbabwe (8). Yet fencing, border closure, and the surveillance of border lands with drones and helicopters, does not prevent transmission of communicable diseases. Rather, non-discriminatory inclusion is a basic public health and disease control principle (4). In economic terms, the R40 million spent for the fence could have financed 20,898 old age pension grants for three months or one month of living wage for 5,662 persons (8) or the vaccination of 200,000 health workers (4). Instead, South Africa's "health diplomacy" focused on the restriction of travel, and did not develop a parallel effective public health response. Rather, the costly requirement of negative Covid-19 test certificates at the border for incoming migrants prevents them from returning home, due to the fear of not being able to resume their employment and/or education in South Africa, and is likely to promote the development of a black market for test certificates and vaccine passports (4). Moreover, irregular migration is likely to increase through border securitisation, forcing undocumented migrants into social invisibility and making them harder to reach (9). Migrants' fear of punitive action, such as detention in poor conditions and deportation, is likely to push them to evade public healthcare services, with negative consequences for all (10). Discourse revolving around the #PutSouthAfricansFirst theme, are dangerous in their potential incitement of violence, due to the ongoing social inequalities (exacerbated by Covid-19), and in consideration of the country's recent history of xenophobic violence (11). It is hoped that the Vaccine ID process adopted will be inclusive of all and not impacted by divisive nationalism or securitization agendas.
Is it probable that South Africa's trajectory will change, and that society will become more inclusive and united? Will the government include refugees, asylum seekers and migrants in the vaccination process whether they are documented or not? Will the country move towards shaking off the mantel of xenophobia and hostility towards foreign nationals? The answer hoped for and that SIHMA and Civil Society as a who must call for is 'Yes'. From a health perspective the answer should be obvious. South Africa sits at the Precipice, it is sincerely hoped that the opportunity is seized and a healthy future for all is realised.
INTEREST IN WRITING SOMETHING?
If you are interested in contributing the SIHMA Blog on the Move please contact us at: https://www.sihma.org.za/contact or if you are interested writing an article to be reviewed and published in the African Human Mobility Review, please follow this link on making a submission: https://www.sihma.org.za/submit-an-article
James Chapman and Ginevra Gianardi
SIHMA SIHMA
Project Manager Research and Communication Intern
SOURCES
BBC https://www.bbc.com/news/world-africa-49566458#:~:text=Attacks%20on%20businesses%20run%20by,a%20video%20posted%20to%20Twitter.&text=The%20surge%20in%20violence%20also,being%20driven%20by%20foreign%20nationals.
Section 3 Refugees Act 130 of 1998 - http://www.saflii.org/za/legis/consol_act/ra199899/#:~:text=To%20give%20effect%20within%20the,for%20the%20rights%20and%20obligations
DAILY MAVERICK 8TH JANUARY 2021 https://www.dailymaverick.co.za/article/2021-01-08-drones-dinghies-and-an-army-helicopter-why-the-states-new-toys-wont-help-south-africas-response-to-covid-19/
SABC News https://www.sabcnews.com/sabcnews/ramaphosa-lambasts-rich-nations-for-overstocking-on-covid-19-vaccines/
OECD https://www.oecd-ilibrary.org/docserver/9789264085398-en.pdf?expires=1611768874&id=id&accname=guest&checksum=035F5856217AAD2FF12306D101CE4473
DAILY MAVERICK 20TH MARCH 2020 https://www.dailymaverick.co.za/article/2020-03-20-foreign-migrants-must-be-included-in-covid-19-response/
THOMSON REUTERS FOUNDATIONS NEWS https://news.trust.org/item/20210121140235-nzmls/
SAIIA https://saiia.org.za/research/danger-of-blurring-global-migration-governance-and-health-security-agendas-in-southern-africa/
Zanker F.L. & Moyo, K. "The Corona Virus and Migration Governance in South Africa: Business as Usual? (2020)https://journals.sagepub.com/doi/pdf/10.1177/0002039720925826
---
Categories:
---
Tags: