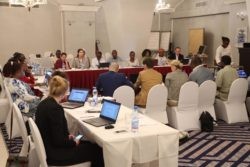 Technical Workshop to Review the AU Training Curriculum on Migration Governance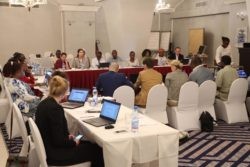 From 17 to 19 July 2019, the Scalabrini Institute for Human Mobility in Africa, SIHMA, was invited to the workshop organized by the African Union in Dar Es Salaam, Tanzania, to define the training programme for governments and public administration officials of different countries managing the complex phenomenon of migration.
Other stakeholders at the workshop were the most important study centres and universities on the African continent, with expertise in migration, especially in research and training. Participants included experts from South Africa (University of the Western Cape of Cape Town and ACMS of Johannesburg, our partners), Ghana, Egypt, Senegal, Kenya and Nigeria.
In the days of intense exchange, we were able to share the different experiences that each institution and organization has put in place over the years to teach the main content of human mobility, both academically and practically. The purpose was to collect and then frame content for training courses for officials and civil servants in the various African countries and regions.
Participants identified the basic structure (residential course of at least 5 days), its fundamental characteristics (minimum requirements for participation, modules, methods of presentation, interactive materials, teaching tools and assessment tools) and content (general elements on migration, migration and development, government policies, implementation mechanisms, other social and economic elements connected to migration).
Since SIHMA pursues training and capacity building as a major focus, our participation was to share knowledge and expertise gathered from organising courses in collaboration with the University of the Western Cape (a special seminar at the Institute of Social Development) and with the Bishops' Conference of South Africa (training courses for agents of migration).
We were also able to integrate two fundamental aspects of our mission into the exchanges and conversations. The first is the importance of the fundamental rights of migrants and people on the move. SIHMA insisted on the incorporation of a module, Ethics of Migration, in order to open conversations about policy-making and implementation. We reminded the delegates that taking care of migrants also means having a holistic approach to the individual, including all aspects of their humanity.
The second suggestion we made to the African Union was that it should strive for an open and fruitful relationship between the different non-governmental organizations and associations that work in various ways in the field of migration. This exchange of knowledge could create a virtuous network that allows all the actors to develop a just society.
During the whole workshop, valuable networking transpired: long-standing partnerships were reinforced and new partnerships for informal exchanges were enabled. SIHMA was a part of the rich circulation of ideas, proposals and possible activities that emerged from the informal meetings, which are a part of the nature of this kind of opportunity. Much appreciation was expressed for SIHMA's recent work. The team feels enriched, strengthened and we hope for SIHMA's future involvement in the training courses and activities of the African Union.
---
Categories:
---
Tags: