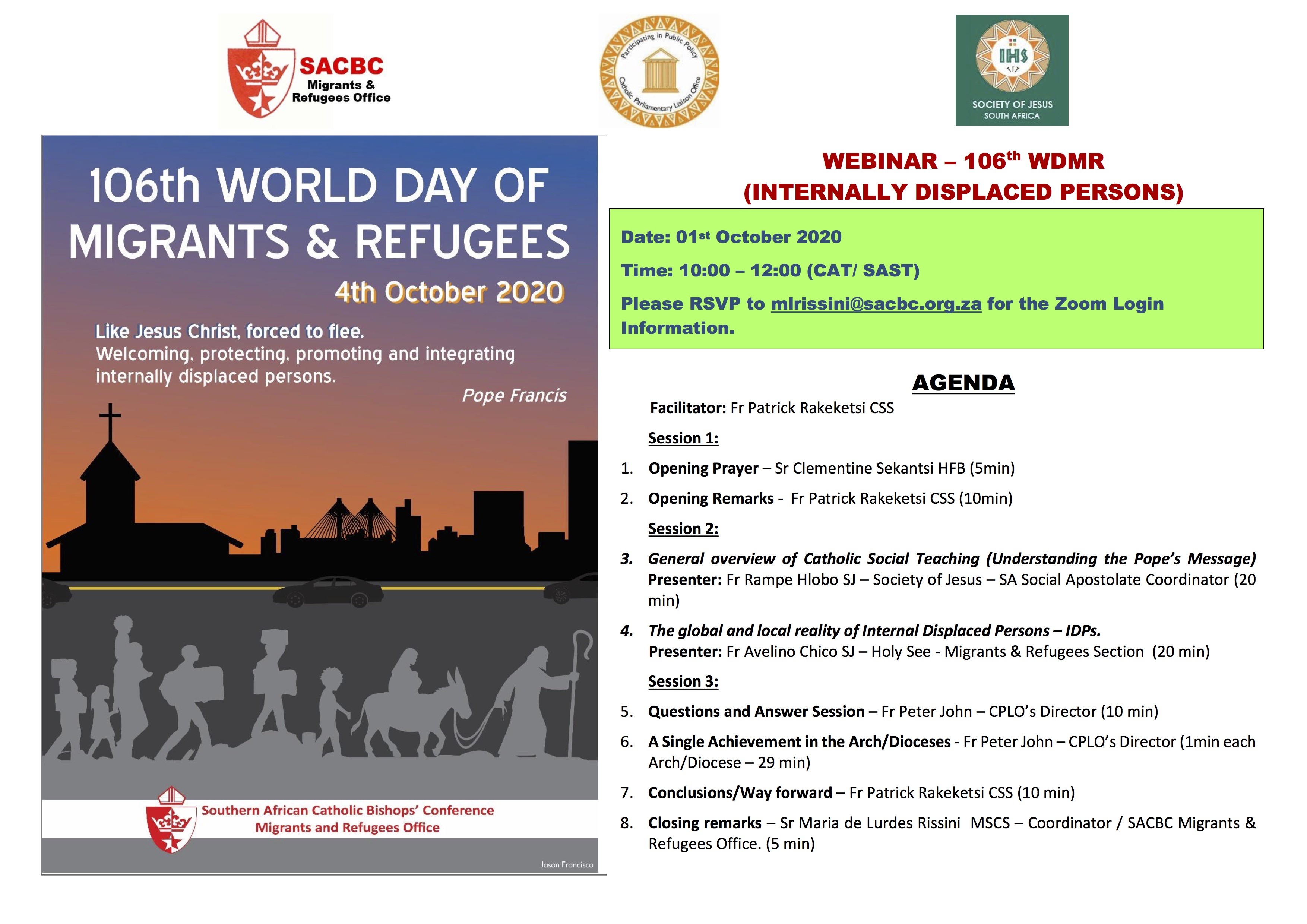 Webinar - 106th World Day of Migrants and Refugees (Internally Displaced Persons)
Event start: 10:00 2020-10-01 Event start: 12:00 2020-10-01
Location:
Virtual Meeting
The South Africa Catholic Bishop's Conference (SACBC), Migrants and Refugees Office, CPLO and Society of Jesus in South Africa organized a Webinar meeting on October 1st.

The objective of this Webinar is to celebrate and commemorate the 106th World Day of Migrants and Refugees in the Church, and the webinar is addressed to any person that is committed to the Ministry of Migrants and Refugees. The SACBC Admin Board has also decided that Migrants & Refugees Day be celebrated on Sunday, 04 October 2020 (Feast of St Francis) due to the fact that 27 September 2020 has already been allocated to the celebration of the Bible and St. Jerome.

The main topic of the event is the Internally Displaced Persons, the theme also choose from Pope Francis for the World Day of Migrants and Refugees 2020. Other topics discussed in the webinar are: a General overview of Catholic Social Teaching, the understanding and discussion about the Pope's message for the Migrants and Refugees Day; The global and local reality of Internal Displaced Persons (IDPs); Achievements in the Arch/Dioceses. There will be then time for a session to share questions and opinions, facilitated by Fr Peter John, Catholic Parliamentary Liaison Office's (CPLO) Director and the closing remarks by Sr Maria de Lurder Rissini, Coordinator of the Scalabrinian Missionaries of St. Charles and SACBC Migrants and Refugees Office.
---
Categories:
---
Tags: