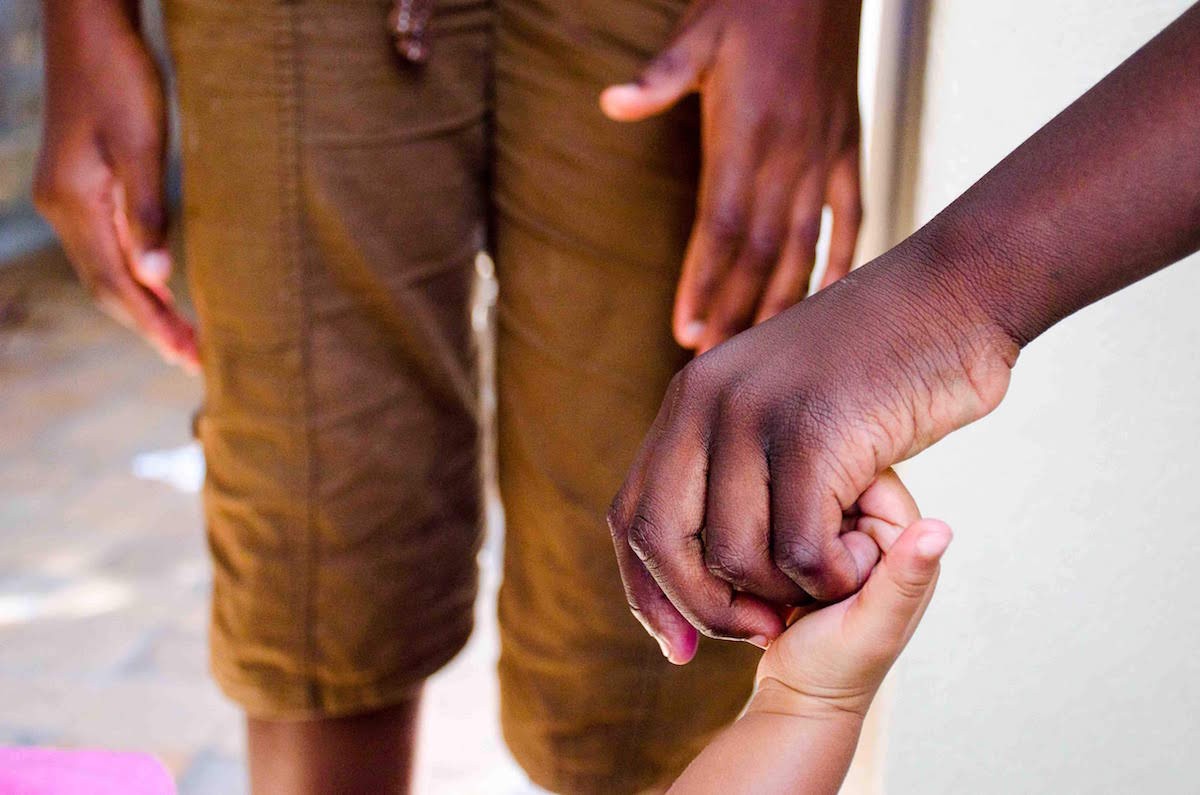 World Day for Migrants and Refugees – Forced like Jesus Christ to Flee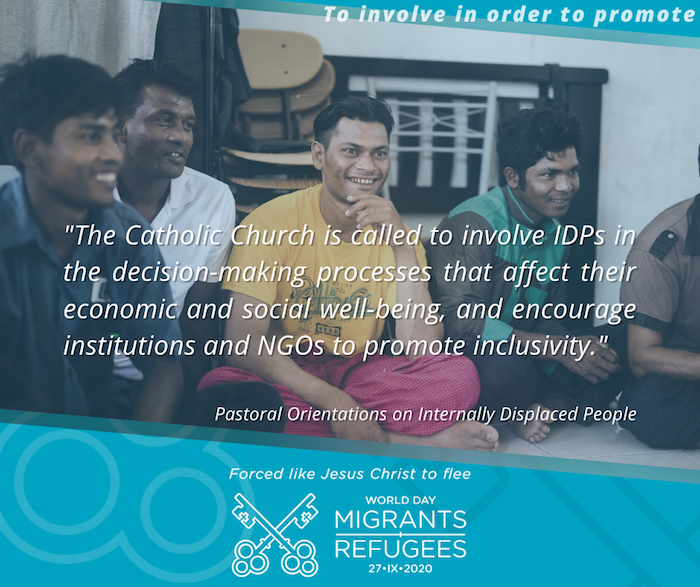 16
Sunday, September 27th is the 106th World Day for Migrants and Refugees. On this day, the Vatican invites the world to look at migrants and refugees' plight and highlights the role of the Church in their protection. This year, Pope Francis dedicated the day to the pastoral care of internally displaced persons with the message "Forced like Jesus Christ to flee. Welcoming, protecting, promoting and integrating internally displaced persons".1,2
Internally displaced persons (IDPs) are "persons or groups of persons who have been forced or obliged to flee or to leave their homes or places of habitual residence, in particular as a result of or in order to avoid the effects of armed conflict, situations of generalized violence, violations of human rights or natural or human-made disasters, and who have not crossed an internationally recognized State border", as stated in the 1998 Guiding Principles on Internal Displacement3. Yet, as IDPs move within national borders, their categorisation and protection mainly depend on national policies and the capacities of different nations, which has led to inconsistent and insufficient assistance.
IDPs are often among the most vulnerable people in the world partly because they move to areas where it is often difficult to deliver humanitarian aid4. As of the end of 2019, there were 50.8 million IDPs5. Of these 45.7 million are conflict IDPs, which is about 57.5% of forcibly displaced persons – the other approximately 43.5% being refugees (26 million), asylum seekers (4.2 million) and Venezuelans displaced abroad (3.6 million) 6. The total number of forcibly displaced persons is thus 79.5 million6 with the figure for number of refugees and number of forcibly displaced both being the highest numbers in 20 years as reflected in the graph below9.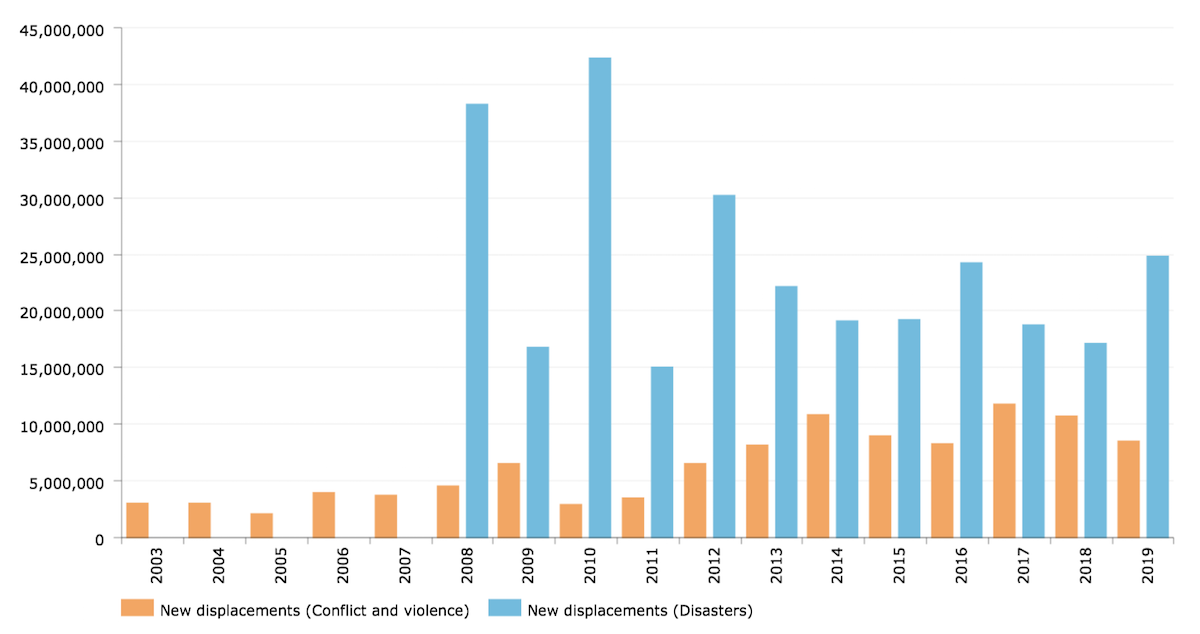 Numbers of IDPs and refugees (Source: IDMC, UNHCR and UNRWA) 9
According to the Internal Displacement Monitoring Centre (IDMC), the majority of the newly Internally Displaced worldwide are displaced because of onset and slowly developed natural or human-made disaster. Floods and storms are the hazards that trigger most internal displacement. In May 2020, cyclone Amphan forced 3.3 million people to be evacuated from parts of India and Bangladesh, most of them may not go back. Indeed, even in case of a short-term disaster, most IDPs face prolonged displacement because their original homes are damaged or destroyed. Somalia throughout the year, Nigeria in August and September and Burundi in April all faced intense floods, substantially increasing internal displacement. We can expect the 2020 global numbers to climb up before the end of the year with the hurricane season in the Americas lasting until November7.
In Sub-Saharan Africa, the tendency is reverse, with a majority of IDPs fleeing conflict and violence. From the most recent data, in the first half of 2020, 2.9 million IDPs were running away from conflict, compared to 1.7 million escaping disasters7. Despite the 2009 Convention for the Protection and Assistance of Internally Displaced Persons in Africa (known as the Kampala Convention), Africa is still hosting a large number of vulnerable IDPs and the highest number of conflict and violence IDPs8. The most affected African country today is by far the Democratic Republic of Congo, with more than 1.7 million IDPs in the first half of 20207, adding to already 5.6 million IDPs reported at the end of 20199.
We must also highlight that people who might have been forced to leave are now forced to stay because of the ongoing Covid-19 pandemic. Although the collection of data has been challenged by the measures to curb the spread of the virus, making it difficult to know exactly how Covid-19 is affecting IDPs, one can only assume that the pandemic has particularly affected IDPs. For instance, as of July 2020, almost half of Somalia's Covid-19 cases were recorded in Banaadir region, which host about 500,000 IDPs in informal settlements10,11. Covid-19 measures have also worsened the challenges that IDPs were already facing before the crisis, such as access to healthcare, work in the informal economy, food insecurity and psychological distress. 80% of the world's displaced people are in countries or territories affected by acute food insecurity and malnutrition and 40% of displaced people are children6.
Since the beginning of 2020, Pope Francis has emphasised the urgent needs of IDPs and encouraged initiatives to support IDPs12, a commitment that this year theme for the World Day for Migrants and Refugees reinforces13. The Migrants & Refugees Section (M&R) of the Dicastery for Promoting Integral Human Development published the Pastoral Orientations on Internally Displaced People (POIDP) to "offer suggestions and guidance for action based on four verbs: welcome, protect, promote and integrate", inspired by their ongoing work with migrants and refugees14. This POIDP can be used to organise information campaigns, to guide local efforts, and to engage in dialogue with government officials, NGOs and civil society all over the world.
The South Africa Catholic Bishop's Conference (SACBC), Migrants and Refugees Office, CPLO and Society of Jesus in South Africa are also organising a webinar on October 1st, 2020 in commemoration and celebration of the 106th World Day for Migrants and Refugees15.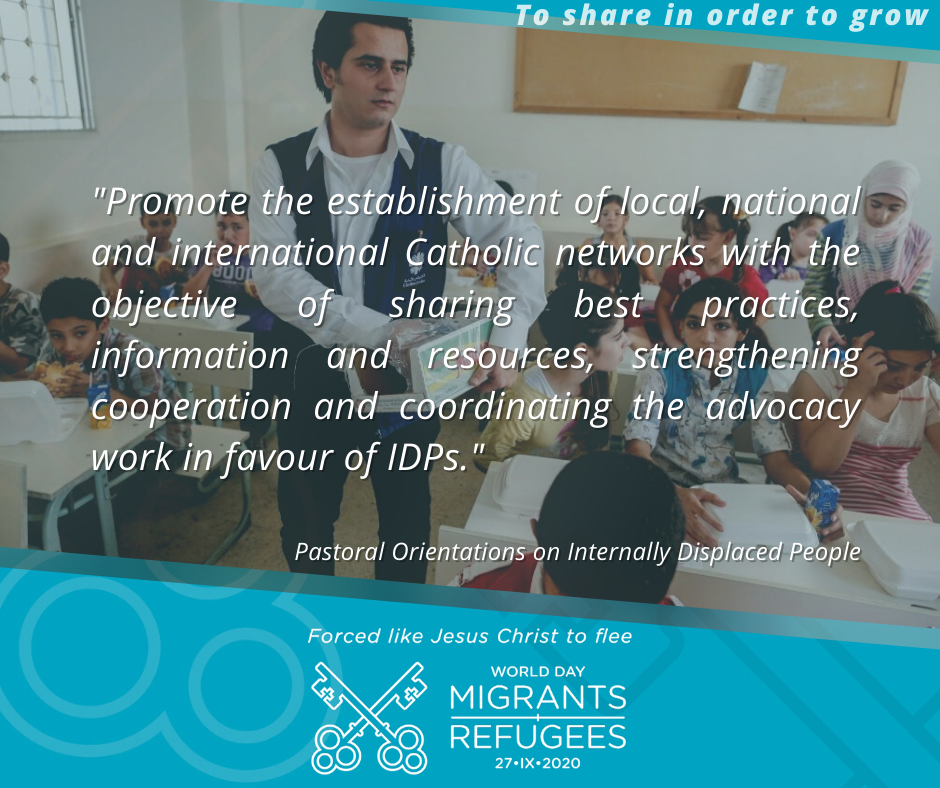 16
One may also reflect and consider: Forced to Escape, A Note on the World Day of Migrants and Refugees a reflection on Pope Francis's message for the World Day of Migrants and Refugees offered by the General Administration of the Scalabrinian Missionaries of Saint Charles17.
James Chapman and Nolwenn Marconnet
SIHMA SIHMA
Project Manager Research and Communication Intern
Resources:

1. YouTube - "Forced like Jesus Christ to flee": To know in order to understand: https://www.youtube.com/watch?v=oS5SvUWlsZo&list=PLCBS5F6zCXGoMK0E2XFzpccobJu9o9iSx&index=2
2. YouTube - "Forced like Jesus Christ to flee": To be close in order to serve: https://www.youtube.com/watch?v=wdN2vFMkqWU
3. 1998 Guiding Principles on Internal Displacement – UNHCR: https://www.unhcr.org/protection/idps/43ce1cff2/guiding-principles-internal-displacement.html
4. UNHCR - Internally Displaced People: https://www.unhcr.org/internally-displaced-people.html?query=IDPs
5. https://www.internal-displacement.org/
6. https://www.unhcr.org/figures-at-a-glance.html
7. IDMC - Internal displacement 2020: Mid-year update: https://www.internal-displacement.org/sites/default/files/publications/documents/2020%20Mid-year%20update.pdf
8. IDMC – 2019 Africa Report on Internal Displacement: https://www.internal-displacement.org/sites/default/files/publications/documents/201912-Africa-report.pdf
9. IDMC – Global Internal Displacement Database: https://www.internal-displacement.org/database/displacement-data
10. Amnesty International, Somalia internally displaced people surviving by 'the grace of god' amidst COVID-19, 21 July 2020: https://www.amnesty.org/en/latest/news/2020/07/somalia-internally-displaced-people-surviving-by-the-grace-of-god-amidst-covid19/
11. UNHCR - Floods drive over 650,000 Somalis from their homes in 2020: https://www.unhcr.org/news/briefing/2020/8/5f2cf86c4/floods-drive-650000-somalis-homes-2020.html
12. Pope Francis - Address to the Diplomatic Corps accredited to the Holy See, 9 January 2020: http://www.vatican.va/content/francesco/en/speeches/2020/january/documents/papa-francesco_20200109_corpo-diplomatico.html
13. Pope Francis – Message of his Holiness Pope Francis for the 106th World Day of Migrants and Refugees 2020: https://migrants-refugees.va/wp-content/uploads/2020/05/EN.pdf
14. Migrants and Refugees Section - Pastoral Orientations on Internally Displaced People: https://migrants-refugees.va/wp-content/uploads/2020/05/2.-Read-On-Screen-Legal-EN.pdf
15. Webinar – 106th World Day of Migrants and Refugees: http://sihma.org.za/Blog-on-the-move/webinar-106th-world-day-of-migrants-and-refugees-internally-displaced-persons
16. Migrants and Refugees Section: https://migrants-refugees.va/resource-center/world-day-of-migrants-refugees-2020/
17. Scalabrinian Missionaries of Saint Charles: "Forced to Escape, A Note on the World Day of Migrants and Refugees": www.scalabriniani.org/en/c365-attualita/scalabriniani-giornata-mondiale-migrante-2020-riflessione-direzione-generale/?fbclid=IwAR1fVUgwU-2EYdpNOJIiwx973I_CJK2If6eL4kuwNPgQe-bSTs-6Slc3meY and https://drive.google.com/file/d/1HpvDVAdAxFd0PFTsbscPc49bL8N3qK06/view
---
Categories:
---
Tags: